Welcome to the Swedish Optical Society – Branch of the European Optical Society
Verksamhetsidé för Svenska OptikSällskapet
Svenska OptikSällskapet är en ideell förening för individer och organisationer som arbetar med optik i utbildning, forskning, utveckling, produktion, vård och handel.
Föreningens syfte är att främja optikens utveckling och användning, och att ta tillvara och samordna medlemmarnas intressen genom att
genom sin existens och sina aktiviteter ge optiken och optikerna en identitet och en röst, och medlemmarna legitimitet och professionell status
sörja för god och ändamålsenlig utbildning inom optiken och medlemmarnas vidareutbildning genom

att följa optikens utveckling, fånga upp och formulera medlemmarnas behov
att påverka utbildningen och utbildningsplaner i skol- och högskolesystemet
att bidra med aktiviteter som ökar kunskapen inom optik
att arrangera seminarier, kurser och en periodisk konferens i Sverige
att informera om utvecklingar inom optik genom medier.

vara kontaktcentrum för utbyte av information och samarbete, och i gemensamma initiativ med grannländerna och sällskap och organisationer i Europa företräda svensk optik.
SOS årsstämma 1997
SOS' Verksamhet
SOS – Svenska Optiksällskapet – grundades 1991. Sedan 1 januari 2004 har SOS tillsammans med övriga optiksällskap i Europa nära samverkan med European Optical Society (EOS) i den formen att alla medlemmar i SOS är även personliga medlemmar i EOS. Vårt sällskaps fullständiga benämning är nu "Svenska OptikSällskapet – The Swedish Optical Society, Branch of the European Optical Society". SOS' rättsliga form, tillgångar och ekonomi berörs inte av EOS.
Om bakgrunden till sammanslutningen och många års diskussioner om en stärkning av optiken i Europa kan man läsa i dokumentationen inför SOS årsstämma 2003 i rubriken SOS och EOS.
SOS' största aktivitet är de med 18 månaders mellanrum arrangerade konferenserna "Optik i Sverige". Dessa ger i allmänhet en översikt över svensk verksamhet inom hela optikområdet. År 2000 höll för första gången optiksällskapen i de fyra nordiska länderna sina möten gemensamt som konferensen "Northern Optics 2000" i Uppsala. Nästa gemensamma konferens i samma form var "Northern Optics 2003" i Helsingfors.
SOS har ett antal arbetsgrupper, bl a för språkvårdsfrågor, samhälle och utbildning mm. Språkgruppens arbete har resulterat i en växande ordlista för optiktermer och "språkspalten", se SOS språksida.
Här hittar du information om medlemskap.
Svenska OptikSällskapet: Styrelsen/Board
Ordförande/Chairman of the Board: Fredrik Nikolajeff
Department of Engineering Sciences, Applied Materials Science
Uppsala Universitet
Fredrik.Nikolajeff@angstrom.uu.se
Ingemar Peterman
Rise Acreo Swedish ICT AB
ingemar.petermann@ri.se
Lennart BM Svensson
LS Lasertech Innovation KB
lennart@photonicsweden.org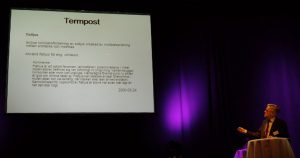 Photos by Professor emeritus Klaus Biedermann
Investment and Development Agency [...]