Pris som årets optik och fotonikföretag
Optik och Fotonikpriset- för framgångar under föregående år
 se pristagare: PhotonicSweden company prizes

enkät för nominering: Optik och Fotonikpriset-statuter och enkät
Det stora optik och fotonikpriset delas årligen ut till ett företag inom ämnesområdet, som har utmärkt sig både tekniskt och ekonomiskt under det föregående året. Pristagaren kan exempelvis premieras för tekniska innovationer, för lyckade ekonomiska satsningar eller för uppvisad god lönsamhet. Det finns inget krav på att företaget skall vara medlem i PhotonicSweden.
Priset består av äran, ett diplom och en tavla.
Anvisning och tågordning för nominering:
En uppmaning till medlemsföretagen att föreslå pristagare sändes ut.
Inkomna förslag skall åtföljas av motivering.
Inkomna förslag kompletteras med tillgängliga uppgifter om omsättning, vinst etc.
Anvisning och tågordning för styrelsen vid val av pristagare:
Nominerade företag bedöms i en tregradig skala efter vardera

tillväxt (om möjligt optik och fotonikdelen av företaget)
lönsamhet (om möjligt optik och fotonikdelen av företaget)
teknisk-vetenskaplig nivå (om möjligt på optik och fotonikdelen av företaget)
kvalitet (om möjligt på optik och fotonikdelen av företaget)
marknadskommunikation
samhällsnytta

Om flera företag står mot varandra får totalpoäng fälla utslag
Beslut om vinnare tas av priskommittén
Anvisning och tågordning för utdelning av priset:
Priset delas ut vid lämpligt tillfälle i okt-nov.
Pristagaren underrättas snarast om priset efter kommitténs beslut
Pristagaren presenterar normalt företaget för PhotonicSwedens medlemmar vid utdelningstillfället eller senare.
Priskommittén består av PhotonicSwedens styrelse
Qualisys AB
Best Optics & Photonics Company of the year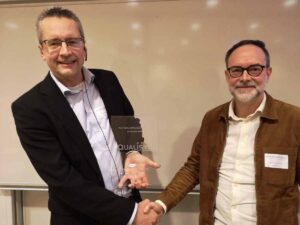 Fredrik Mueller Qualisys AB, Peter Strömberg Acoem AB and PhotonicSweden board
Motivation:
Qualisys AB is a leading provider of precision motion capture and 3D positioning tracking systems. For over 30 years, Qualisys AB have supplied research, engineering, and sports facilities with high-end camera systems and expertise in capturing and analyzing movements. With a focus on human and animal biomechanics, sports, and engineering, Qualisys products and solutions brings deeper knowledge, improved quality of life and better performance.
By awarding Qualisys AB this years' Best optics and photonics company of the year prize, PhotonicSweden would like to recognize the strength of a company that over a long time has been working in close collaboration with academia and professionals globally to build state of the art solutions in a variety of fields and turning this knowledge of technology and customer needs into off-the shelf systems for a wide range of users. Excellent hardware and software technologies that combines to a complete solution, together with hard and persistent work, has led to an impressive growth and profitability.
Furthermore, by giving this award to Qualisys AB, PhotonicSweden also like to shine a light on the importance of photonics in the Swedish export industry. Qualisys AB, based in Gothenburg, but with offices in Europe, North America and Asia that supports a global network of partners and distributors, has been able to bring its products, knowledge, and expertise successfully throughout the world.
Norrköping, November 25, 2021