All national projects that PhotonicSweden has been participating in so far, have been financed by Vinnova.
The first project which was realised from June 2012 to November 2013 was called "The strategic research and innovation agenda (SRIA) – Photonics a Key Enabling Technology for Sweden", also called shortly the "Photonics Agenda". VINNOVA supported PhotonicSweden to develop this agenda and additionally, we have followed their strong encouragement to work on a common agenda with several constellations within the field of electronics which eventually resulted in the strategic innovation programme Electronics Components and Systems (ECS or in Swedish: Smartare Elektroniksystem).
The agenda can be downloaded:
PhotonicSweden is part of the ECS Advocacy Platform (in Swedish Smartare Elektroniksystem Påverkansplattform). This project, part of the strategic innovation programme Electronics Components and Systems, aims at influencing the calls of the European Commission in such a way that it becomes easier for Swedish actors to build up strong application and participate in strong EU projects.  The project is lead by RISE Acreo and the other project parts are Swerea IVF, Find IT, Luleå Technical university and TEBAB. P-Y Fonjallaz has been acting project leader since the start on March 1, 2015.
This project is financed by the strategic innovation programme Electronics Components and Systems (Smartare Elektroniksystem). It aims at providing a directory of the Swedish photonics actors, industrial ones, institutes, academic groups and any other relevant organisations, to improve collaboration and information exchange.
The project results, soon available, consist of:
A description of the photonics field in general and of its importance for the society, the industry and other technology areas.
A description of the national network, companies, institutes, organisations and academies, and of how this network is organised.
Fotonik – kan definieras som "ingenjörsmässig hantering  av ljus", vilket innebär användning av ljus för att upptäcka, överföra, lagra och processa information, att fånga och visa bilder, samt att generera energi.
Fotonik är utsedd av EU-komissionen som en av sex s.k. Key Enabling Technologies (KETs), som forskning och utveckling särskilt skall satsa på för att skapa nya arbetstillfällen och kunna möta framtida konkurrens utanför EU.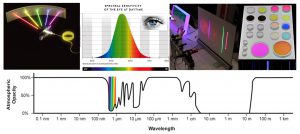 Fotoniken omfattar det elektromagnetiska spektrat, från Gammastrålning till IR-strålning. Gammastrålning som är joniserande är den mest högenergetiska elektromagnetiska strålningen. Det för ögat synliga området utgörs av icke joniserande elektromagnetisk strålning, men utgör endast en bråkdel av det användbara våglängdsområdet.
Fotoner och elektroner lever oftast i symbios med varandra. Mellan 1945-1990 genomgick elektronikområdet en enorm utveckling, från elektronrör => transistorer => digitala kretsar => mikroprocessorer och medföljande mjukvaruutveckling. Inom klassisk eller geometrisk optik så bevisades optiska fenomen runt år 1000 att ljus reflekterades och inte kom från själva ögat som man då trodde, medans det första enkla teleskopet eller kikaren byggdes 1608. Principen med optiska fibrer demonstrerades 1842. Den moderna optiken kom långt senare i och med lasern. Nyckeln till uppfinningen av lasern är begreppet stimulerad emission som infördes av Einstein redan 1917. Den första användbara lasern togs dock fram först 1960 av Theodore Maiman vid Hughes Research Lab. 1970 tillverkades den första användbara optiska fibern utan stora signalförluster.
Mycket forskning och utveckling inom fotonik som resulterat i flera Nobelpris har banat väg för det tekniksamhälle vi har idag med bl.a  optisk mätteknik, laser, LED (Light Emitting Diodes), detektormatrissensorer (FPA), digitalkameror, värmekamror, optisk fiberkommunikation, smartphones, laserskrivare, CD-DVD- BluRay läsare, Tv- och databildskärmar, laserbaserad produktion, LIDAR (Light Detecting and Ranging), aktiva kollisionsskydd i bilar, självkörande bilar, bioteknisk forskning, medicinsk laserbehandling, solceller, m.m.
Tidigare framtagna data visar att det under 2015 fanns ca.2,32 miljoner arbetstillfällen över hela världen inom marknadssegmentet fotonikprodukter. Denna marknadsandel värderades då till US$ 500 miljarder för 2015 och förväntades öka till över US$ 600 miljarder 2020. Värdet ökar än mer då hela värdekedjan beaktas, från FoU av fotonikkomponenter och material => fotonikkomponenter => möjliggörande av fotonikbaserade produkter => möjliggörande av fotonikservice. För att påvisa fotonikens samhällsbetydelse utsåg UNESCO (United Nations Educational, Scientific and Cultural Organization) 2015 till International "Year of Light 2015", som därefter numera varje år 16 maj fortsätter att uppmärksammas som
Day of Light www.lightday.org .
Specifika mål för navet
Genomföra en kartläggning av svenska fotonikaktörer
Synliggöra dessa svenska fotonikaktörer
Försöka skapa värdegrunder för möjligt samarbete
Föra ut och förklara vad fotonik är i allmänhet och dess betydelse för samhället, industrin, samt andra teknikområden i synnerhet.
Aktörer
Hittills har över 100 st fotonikaktörer som är verksamma i Sverige beskrivits på en A4-sida vardera med verksamhet och kontaktuppgifter. Informationen om de svenska fotonikaktörerna finns tillgänglig att laddas ner via denna länk.
Kompetensnav-Fotonik-Rapport-v12-1.
Swedish Photonics Companies – Alphabetical order 
Kontaktinformation – Kompetensnav Fotonik
Lennart BM Svensson
PhotonicSweden
Box 1070
Isafjordsgatan 22
164 25 Kista
Mobil: 070-726 7411
E-post: lennart@photonicsweden.org
Web: www.photonicsweden.org