An event on photonic career opportunities, the CARLA camp Stockholm, hosted by PhotonicSweden and KTH,  took place on May 11 & 12 2022.
137 registered participants, including speakers from Europe and beyond, attended the event packed with talks, panel discussions, networking sessions and career development presentations, to introduce STEM graduates, PhD students and early-stage researchers to the myriad of multidisciplinary careers in photonics.
The Stockholm camp was held in a hybrid format with 26 people who followed the presentations online and 111 people on site at KTH campus.
The program ran over the two afternoons and involved 14 international speakers, 12 pitch talks from companies and an exhibition for the matchmaking of students and companies in the networking area. The first day started with a keynote talk to give an overview of the photonics landscape and job opportunities and was dedicated to introducing photonic careers in academia and industry including needed skills and soft skills. The second day focused on innovation and entrepreneurship and included talks on how to develop personally to become a good entrepreneur. Both days ended with networking in the exhibition area with food and drinks.
Attendees said about the event:
Thanks for the fruitful CARLA Camp session. I found it very insightful for my future career in Photonics. (Master student)
You must arrange more of this kind of even, this is what we need to meet the students! (company)
A big thank you for organising the event last week. We found it very worthwhile to meet students and have the opportunity to promote our company.
On 11 & 12 May from 17:00-20:30 at KTH
Download Flyer here: Flyer-v12
Free of charge!
This seminar is funded by the EU-project CARLA www.carlahub.eu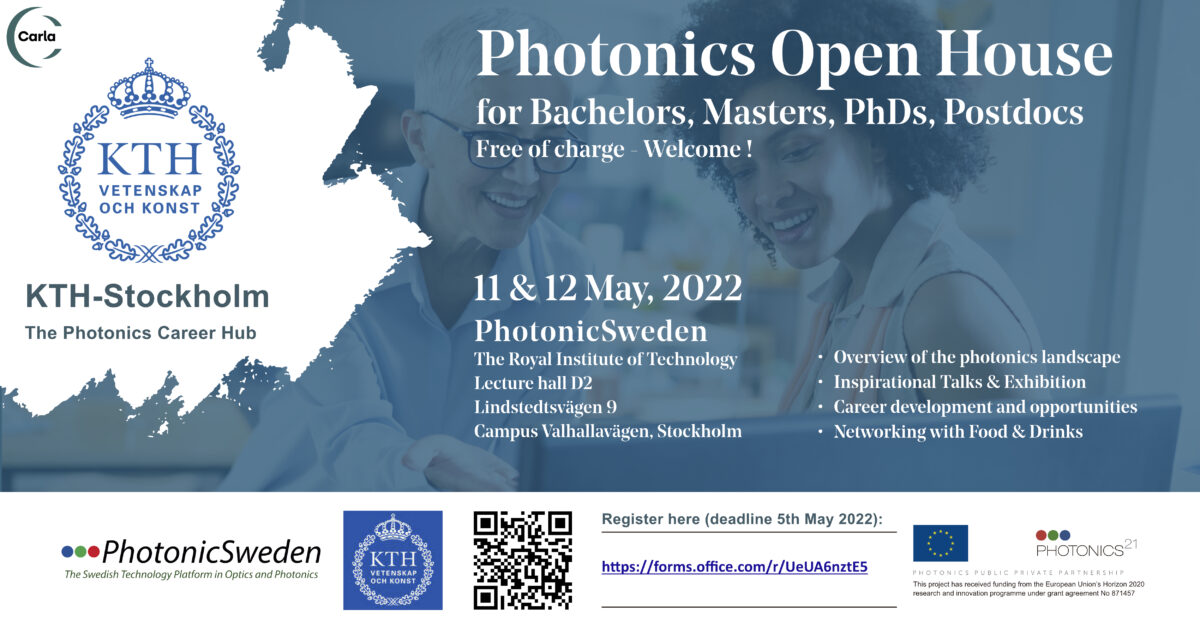 In collaboration with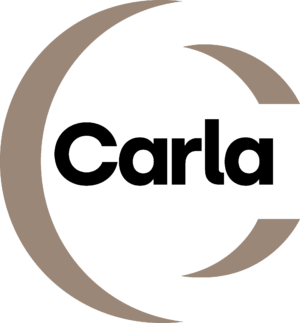 Program
| | |
| --- | --- |
| | Wednesday 11 May 2022 |
| | |
| 17:10-17:15 | Registration |
| | |
| 17:15-17:25 | Welcome and introduction |
| | |
| 17:25-17:55 | Keynote speech: What is Photonics? A hot field with lots of job opportunities  |
| | Fredrik Laurell, Prof. Laser Physics group, KTH |
| | |
| 17:55-18:10 | Break with networking and exhibition  |
| | |
| | Training and Education in Photonics and Photonics Careers in Industry |
| | |
| 18:10-18:20 | Why I specialise in photonics  |
| | Max Widarsson, PhD student, KTH |
| | |
| 18:20-18:30 | How Photonics got me where I am today |
| | Helen Rendall, Single Technologies AB |
| | |
| 18:30-18:40 | From Start-up to an international high-tech company |
| | Elizabeth Illy, Cobolt AB |
| | |
| 18:40-18:50 | Photonics touch every corner of our lives |
| | Qian Li, Mycronic AB |
| | |
| 18:50-19:00 | My love for popular science and quantum mechanics |
| | Johanna Rogvall, Master student, Uppsala Universitet |
| | |
| 19:00-19:10 | Building a career thanks to Photonics |
| | Hoda Kianirad, Eclipse Optics AB  (TBC) |
| | |
| 19:10-19:20 | Discussion |
| | |
| 19:20-19:40 | Pitch talks from companies |
| | |
| 19:40-19:50 | Discussion and wrap up of the day |
| | |
| 19:50-21:00 | Networking with food and drinks at the exhibition area – Ljusgården |
| | |
| | |
| | |
| | Thursday 12 May 2022 |
| | |
| 17:10-17:15 | Registration |
| | |
| 17:15-17:25 | Welcome and introduction |
| | |
| | Photonics Careers in Entrepreneurship  |
| | |
| 17:25-17:35 | How we support new ideas to create impact in society |
| | Lisa Bäckman, KTH innovation |
| | |
| 17:35-17:45 | How to build a start-up as optics consultants |
| | Jonas Tidström, Entangly AB |
| | |
| 17:45-17:55 | A start-up for optical positioning in industrial applications  |
| | Björn Edlund, Beotop AB |
| | |
| 17:55-18:05 | Discussion |
| | |
| 18:05-18:20 | Break and networking  |
| | |
| | Photonics Careers in Industry  |
| | |
| 18:20-18:30 | How I became a multiphysics expert at Comsol |
| | Elisabetta Perotti, Comsol AB |
| | |
| 18:30-18:40 | Life as an Optics and Photonics consultant @ AFRY |
| |  Tommy Norström and Patrik Holmberg, AFRY AB |
| | |
| 18:40-18:50 | That's how it's working at Tobii |
| | Katherine Remulla, Master studend and Peter Blixt, PhD, Tobii AB |
| | |
| 18:50-19:00 | Discussion |
| | |
| 19:00-19:20 | Pitch talks from companies |
| | |
| 19:20-19:30 | Discussion and closing remarks |
| | |
| 19:30-20:30 | Networking with food and drinks at the exhibition area – Ljusgården |
| | |
Exhibition of potential employers: