Digital Marketplace & 2021 Digital Forum, 6-11 March 2021
It is free to attend the Digital Marketplace, but registration is required for both visitors and company representatives. Only one registration is needed per person, either the free Digital Marketplace and industry session registration or a paid Digital Forum conference registration (which includes Digital Marketplace access). All 2021 Photonics West registrations include access to the Digital Marketplace to view company listings, watch videos and demonstrations, live chat with company representatives, and more.
Download information: Photonics West Online 6-11 March 2021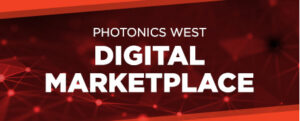 Digital Marketplace event will be held online 6-11 March 2021
Find the best solutions, components, instruments, and system providers from around the world at the Photonics West Digital Marketplace. Companies will be available during the Digital Forum to offer you an inside look into their portfolio of products and services — watch product demonstrations, connect in one-on-one conversations with company representatives, and find partnerships that will advance your work.
Check back for Marketplace details in the coming weeks. Registration is free for the Digital Marketplace and industry sessions.
Go to Digital Marketplace webpage: https://spie.org/conferences-and-exhibitions/photonics-west/photonics-west-marketplace
Included with your free registration
Find leading companies
Review company details, watch product demonstrations, live chat with company representatives during the event, and more. View the list
Attend free sessions
Join online presentations on technical and business topics. See session options
Join Quantum West
Attend a series of online presentations to learn and discuss the role that photonics plays as quantum technology moves from R&D to engineering products for the commercial marketplace. Learn more
2021 Digital Forum event will be held online 6-11 March 2021

Attend the Photonics West Digital Forum, the premier laser, photonics, biomedical optics event. SPIE Photonics West covers a wide range of topics: biomedical optics, biophotonics, industrial lasers, optoelectronics, microfabrication, MOEMS-MEMS, displays, and more.
The digital forum will offer live plenary talks, on-demand technical presentations and discussions, online networking and special events, and a digital marketplace with product demonstrations and the ability to make business connections.
We hope to see you online in March.
Go to Digital Forum webpage: https://spie.org/conferences-and-exhibitions/photonics-west?SSO=1 
Digital Forum dates
6 – 11 March 2021
Registration + pricing
available now
Free, online preview
25 – 28 January 2021
#PhotonicsWest