The forum is a part of the 2019 Chinese Overseas Entrepreneurship and Innovation Activities guided by the National Development and Reform Commission of P.R.C,and China Association of Science and Technology. The forum includes the keynote speeches, panel discussion, and workshop. It is a great pleasure to invite you to attend the forum.
The topics will focus on the cooperation meet points innovation and entrepreneurship hubs. We will discuss how the ecosystem for technology start-ups in Nordic Countries, and how the Nordic start-ups develop their business in China and achieve success by the way of internalization.
Please register here:
Please download program here: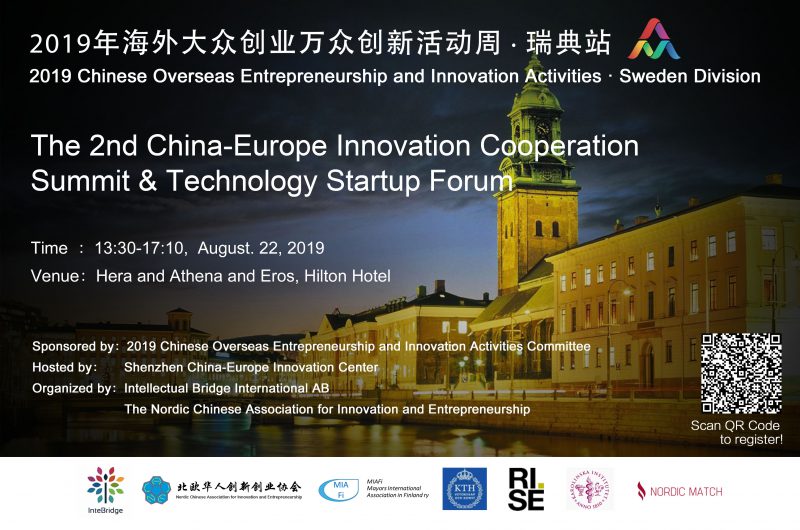 Time: 13: 45-17: 10, August 22nd (Thursday), 2019
Venue: Hera and Athena and Eros, Hilton Hotel, Guldgränd 8, 104 65 Stockholm
Who are our guests? We are inviting the guests from Nordic Countries:
– Officials from the Chinese Embassy
– Private equity / VCs
– Professors / Researchers
– Funds
– Incubators / Innovation platforms
– Institutional investors
Welcome!
Mirror Chen
InteBridge |  Shenzhen China-Europe Innovation Center
7th Floor, Tower C, Shenzhen International Innovation Center, No. 1006 Shennan Avenue, Futian District, Shenzhen, 518026, China
Tel: +86 (0)755 23488797
Mobile:+86 13510632856