Pris som årets optik och fotonikföretag
Optik och Fotonikpriset- för framgångar under föregående år
 se pristagare: Optik och Fotonikpriset-1994-2017

enkät för nominering: Optik och Fotonikpriset-statuter och enkät
Det stora optik och fotonikpriset delas årligen ut till ett företag inom ämnesområdet, som har utmärkt sig både tekniskt och ekonomiskt under det föregående året. Pristagaren kan exempelvis premieras för tekniska innovationer, för lyckade ekonomiska satsningar eller för uppvisad god lönsamhet. Det finns inget krav på att företaget skall vara medlem i PhotonicSweden.
Priset består av äran, ett diplom och en tavla.
Anvisning och tågordning för nominering:
En uppmaning till medlemsföretagen att föreslå pristagare sändes ut.
Inkomna förslag skall åtföljas av motivering.
Inkomna förslag kompletteras med tillgängliga uppgifter om omsättning, vinst etc.
Anvisning och tågordning för styrelsen vid val av pristagare:
Nominerade företag bedöms i en tregradig skala efter vardera

tillväxt (om möjligt optik och fotonikdelen av företaget)
lönsamhet (om möjligt optik och fotonikdelen av företaget)
teknisk-vetenskaplig nivå (om möjligt på optik och fotonikdelen av företaget)
kvalitet (om möjligt på optik och fotonikdelen av företaget)
marknadskommunikation
samhällsnytta

Om flera företag står mot varandra får totalpoäng fälla utslag
Beslut om vinnare tas av priskommittén
Anvisning och tågordning för utdelning av priset:
Priset delas ut vid lämpligt tillfälle i okt-nov.
Pristagaren underrättas snarast om priset efter kommitténs beslut
Pristagaren presenterar normalt företaget för PhotonicSwedens medlemmar vid utdelningstillfället eller senare.
Priskommittén består av PhotonicSwedens styrelse
Thorlabs Sweden AB
Best Optics & Photonics Company of the year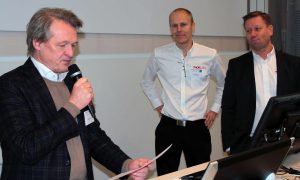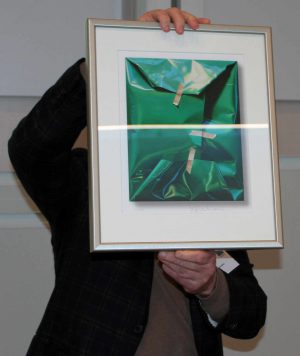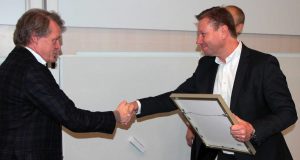 Magnus Breidne (ordförande PS), Olle Rosenqvist, Vice VD Thorlabs Sweden AB, Jonas Olsson VD Thorlabs Sweden AB (Photos by Lennart BM Svensson)
The Optics and Photonics Company of the Year 2017
Thorlabs Sweden AB
Motivation:
Thorlabs Sweden AB, a subsidiary of Thorlabs Inc., designs and manufactures a wide range of advanced optical systems, including Optical Spectrum Analyzers, Fabry-Perot interferometers, Beam Expanders, Objectives, and Collimation Packages, for worldwide distribution to companies and universities. With a modern cleanroom and specialized testing capabilities, Thorlabs Sweden AB is well suited for manufacturing and testing of high-end optical systems.
Located in Mölndal, just outside Gothenburg, the 40-person Thorlabs Sweden team is responsible for sales and technical support for the entire Thorlabs portfolio, which consists of over 20,000 items, in Scandinavia, the Baltic, and Poland.
During many years Thorlabs Sweden has developed advanced optical products on a high technical level and quality. These products get sent to companies and laboratories worldwide with high class optical solutions. Thorlabs Sweden has always great focus on the customer, which guaranteed a constant growth and profitable efficiency. This makes Thorlabs Sweden AB a good example on how Photonics in Sweden can compete in an international environment.
PhotonicSweden shows with the prize for the Best Optics and Photonics Company 2017 how successful Swedish companies can be in the field of ​​photonics.
About PhotonicSweden
PhotonicSweden is an economic association which was founded in 2011 in order to unify the community of the Swedish optics and photonics, including companies, R&D organizations, universities, and competence center in order to strengthen the market. PhotonicSweden enables a stronger collaboration of industry and science in being the voice for the national and international community in optics and photonics. www.photonicsweden.com
About Thorlabs: Thorlabs, a vertically integrated photonics products manufacturer, was founded in 1989 to serve the laser and electro-optics research market. As that market has spawned a multitude of technical innovations, Thorlabs has extended its core competencies in an effort to play an ever increasing role serving the Photonics Industry at the research end, as well as the industrial, life science, medical, and defense segments. The organization's highly integrated and diverse manufacturing assets include semiconductor fabrication of laser diodes, optical amplifiers, lithium niobate modulators, quantum cacscade/interband cascade lasers, and VCSEL lasers; fiber towers for drawing glass optical fibers (silica, fluoride, tellurite, and hollow core); MBE/MOCVD epitaxial wafer growth reactors; extensive glass and metal fabrication facilities; advanced thin film deposition capabilities; and optomechanical and optoelectronic shops.
Stockholm 19th October 2017